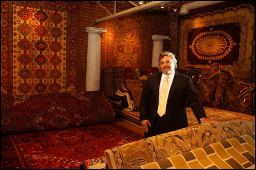 Paul Boulus, the owner of Iran Oriental Rug Co., stands among some of the rugs that are sold in his Walton Way store.
ANNETTE M. DROWLETTE/STAFF
Owner holds on to history
By Matthew Mogul | Staff Writer --From the Tuesday, October 28, 2003 printed edition of the Augusta Chronicle.
When Iran was public enemy No. 1, Paul Boulus wrestled with changing the longtime name of the family business.
The taking of American hostages in 1979 turned the Iran Oriental Rug Co. into a target for some Augustans who threw a brick through a delivery truck's window.
Though the Boulus family is of Palestinian-Italian descent with no ties to Iran, keeping the name created by Mr. Boulus' late grandfather in 1945 was based on pride and three generations of brand recognition.
"I asked my grandmother, and she wouldn't agree to changing it," Mr. Boulus said at the family's Walton Way store. "I also talked with business consultants, and they all said to stick with the name. Everyone in town knows us by it."
Such loyalty makes sense in an ancient profession that even in modern times is steeped in Old World ways. Even so, balancing heritage with change has been a must since grandfather Azeez sold linens and rugs door to door.
Sanctions against Iran in 1987, for instance, tested the Boulus family's wherewithal just a year after Mr. Boulus' father died of lung cancer, leaving him to take over the business at age 26. The government barred imports of the fabled handmade Persian rugs the shop sold almost exclusively at the time.
Unlike a similar ban on Cuban cigars, the rug embargo didn't apply to Persian rugs already in the country. Still, limited supplies pushed up prices.
To adapt, Mr. Boulus started selling Oriental rugs from the silk-route countries of China, India, Nepal and Pakistan, which now make up half his inventory. He also began relying more on repairs and specialized cleaning, which now account for the bulk of his business.
The embargo's end in 2000 flooded the market with Persian rugs, unleashing havoc on retail prices; a premium $10,000 rug could be found for $1,500.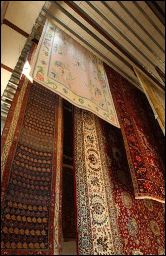 As many as 100 rugs can hang in the store's drying room. Mr. Boulus says repairs and cleaning are a large part of his business.
ANNETTE M. DROWLETTE/STAFF
"Today anyone can afford a rug," Mr. Boulus said. "I sell to everyone from lawyers and doctors to schoolteachers and plumbers."
A tightly woven Persian rug that may take years to make now rarely sells for more than $2,500, he said. The new high-end rugs are colorful Pakistani pieces that better suit American tastes. Those fetch up to $6,500.
In today's currency, pre-embargo Iranian imports reached $750 million. That fell to $103 million the year the embargo was lifted, according to The Oriental Rug Importers Association.
The lifting of the embargo coincided with the company's move to Walton Way, which consolidated the old store on Washington Road and the cleaning shop on Emmett Street.
The retro-looking sign, by no coincidence, resembles the original sign Azeez hung in front of the first Boulus shop at The Partridge Inn. Inside, Mr. Boulus repairs and cleans carpets by hand, the way his father and grandfather taught him.
"We still don't accept credit cards," he said. "Everything is done by a handshake and on trust."
Like one of his rugs that, if taken care of properly, can last for centuries, Mr. Boulus predicts a long future for Iran Oriental Carpets.
"I'm not going to push my kids, but I am sure either my son or daughter or one of my nephews or nieces will take over when I'm done," he said. "You'll see a hundred more years of us for sure."